Ophthalmogen Advanced Eyecare Spray
For the eye relief of the ocular symptoms caused by the eyelids
Ophthalmogen is an ophthalmologically and dermatologically designed Spray for the Eyelids & Eyelashes with natural anti-bacterial, anti-Demodex, anti-inflammatory moisturizing & soothing actions, for the treatment of blepharitis, puffy eyelids, problematic and weak eyelashes.
Inflammation on the eyelids and eyelashes, often caused by the presence of Demodex mites and bacteria, leads to eye irritation with symptoms such as red, burning, watery, itchy, gritty, dry eyes, swollen eyelids, eyelash loss, blurry vision.
Ophthalmogen Spray is designed to be used on closed eyelids.
Ophthalmogen Spray is indicated in case of problematic eyelashes (especially women who make frequent use of make up, contact lens users), irritated eyelids and blepharitis. The Spray's sophisticated ingredient formula contains the ideal amount of Tea tree oil in combination with high care ingredients for use on the eyelids, eyelashes, eyebrows and the peri-ocular area.
Daily eyelid & eyelashes hygiene contributes to improved ocular comfort, appearance, health and quality of vision due to the control of inflammation of the eyelids and the stabilization of the tear film.
Geothermal water: contains a high level of minerals with toning, refreshing and soothing effects that strengthen the skin barrier.
Tea Tree Oil: biologically certified tea tree oil contributes in the reduction of inflammation through its powerful anti-Demodex, anti-bacterial, anti-inflammatory actions
Coconut oil: contributes in the reduction of the inflammation on the eyelids and eyelashes through its strong anti-bacterial and anti-inflammatory actions
Sea buckthorn oil:regulates the parameters of inflammation and helps fight dry eyes due to the high concentration of fatty acids Hyaluronic acid: hydrates, rejuvenates, restores, the health and vitality of the sensitive skin
Hyaluronic Acid: is a basic polysaccharide naturally found in the body that retains a thousand times its weight in water, contributing in the lubrication, rejuvenation and reinstatement of the health and vibrancy of the delicate eyelids skin.
Vitamin D:fat-soluble organic substance belonging to the vitamins and hormones that helps in the reduction of the inflammation and dry eyes Glycerin: relieves dryness and improves moisture retention on the skin Vitamin Ε: fat-soluble ingredient with strong antioxidant properties that act against free radicals
Glycerin: relieves dryness and improves moisture retention on the skin
Vitamin E: is a fat soluble essential nutrient with strong antioxidant properties that combat free radicals produced in the eyes from the metabolism of food and toxins in the environment.
Provitamin Β5: improves skin hydration and elasticity
Vitamin Β7: enhances the quality and density of the eyelashes through the development of collagen and keratin
Vitamins Β3, Β6, Β12: B complex vitamins play an important role in the production of cellular energy to support healthy skin
Spray directly on each closed eyelid
The ophthalmic Spray solution for the eyelids is intended for external use only on the eyelids and eyelashes
After Spraying on the eyelids it takes only a few seconds for the absorption of the formula by the skin 
No rinsing with water is required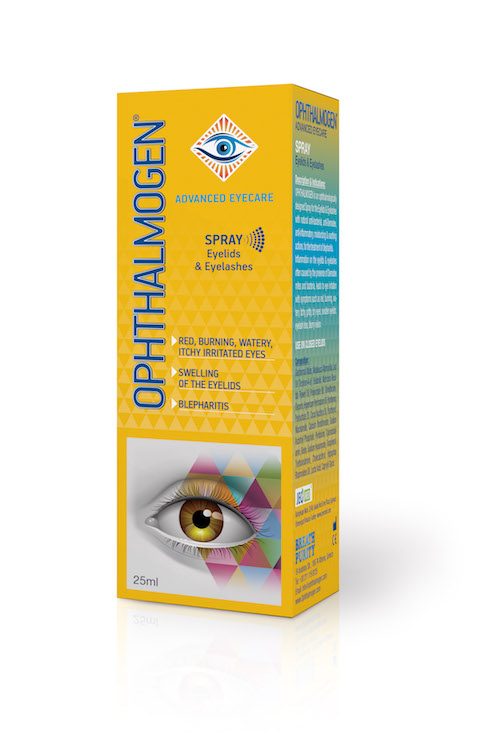 The inflammation of the eyelids & eyelashes known as blepharitis causes eye irritation with symptoms such as burning, tearing, itching, red & dry eyes, swollen eyelids with excessive oiliness, weak eyelashes, blurry vision
Demodex mites (demodicosis) and bacterial overgrowth (bacteria biofilm) on the eyelids and eyelashes are considered the main causes of the occurrence of blepharitis and other chronic inflammatory diseases of the eyes
25ml SPRAY for the Eyelids & Eyelashes 
withe CE mark
RECOMMENDED BY OPHTHALMISTS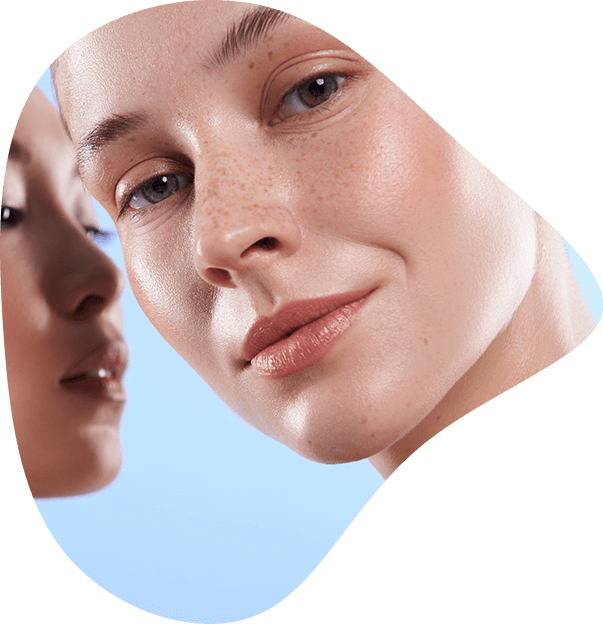 Anti-inflammatory
Anti-bacterial
Anti-demodex
Anti-viral
Moisturizing, regenerative, soothing 
TREATMENT and PREVENTION OF EYE DISEASES
The eyelids are a thin fold of skin that covers and protects the eyes.
– It is the thinnest skin on the entire body
– Contribute to the distribution of tears on the ocular surface
– Contribute to the drainage of tears
EFFECTIVE IN THE TREATMENT & CONTROL OF THE CHRONIC OPHTHALMIC DISEASES OF BLEPHARITIS, DRY EYES AND THE SKIN AILMENTS OF THE EYE AREA
26% of new contact lens wearers drop out of their lenses by the first year
37% of patients seen by an ophthalmologist in the US have blepharitis symptoms
up to 39% of patients with atopic dermatitis can develop keratoconus due to eye rubbing
46% of blepharitis patients suffer from seborrheic dermatitis
47% of patients seen by an optometrist in the US have blepharitis symptoms
up to 50% of the world's population suffers from some form of dry eye
50% of all contact lens wearers develop dry eye symptoms and report discomfort at the end of the day
50% of dry eye patients suffer from anterior blepharitis
51.4% of Rosacea patients suffer from ocular symptoms such as red eyes, itching, dry eyes, stye or chalazion
65% of patients with blepharitis is due to the Demodex parasite
67% of psoriasis patients have ocular manifestations such as blepharitis, dry eyes because of the the systemic inflammation of the disease
70% of dry eye disease cases are due to blocked or dysfunctional meibomian glands, because of inflammation in the eyelids
up to 75% of cataract patients also suffer from dry eyes, blepharitis or some other ocular surface disease that may go undiagnosed prior to surgery
75% of patients with rosacea have ocular involvement which is often underdiagnosed by the dermatologist
82% of glaucoma medication users have their meibomian glands blocked at some extent, experiencing blepharitis & dry eye symptoms
84% over the age of 60 suffer from the Demodex parasite
84.2% of blepharitis patients have simultaneously at least one facial dermatosis such as facial demodicosis, seborrheic dermatitis, rosacea, eyelid dermatitis, ocular rosacea
up to 85% of bacterial infections are due to bacterial biofilm
90% of contact lens wearers has been found to have Demodex
91% of the patients with chalazion is due to Demodex infestation
100% of the people over 70 years suffers from the Demodex parasite