Ophthalmogen Eye10 Advanced Eyecare
40C SELF-HEATING EYE COMPRESSES
For the eye relief of the ocular symptoms caused by the eyelids
Ophthalmogen EYE10 are the innovative 40C self-heating disposable eye compresses that contribute in the treatment of blepharitis, dry eyes, eye fatigue, puffy and irritated eyes. They provide the clinically proven 40C therapeutic heat for 20' wherever and whenever your eyes need it.
Ophthalmogen EYE10 provide:
Eyelid decongestion

Eye area rejuvenation

Fast and long lasting blepharitis & dry eyes relief

Improved contact lens comfort for extended wear

Visual quality optimization by stabilizing the tear film

High levels of compliance and patient satisfaction with the treatment
The eyelids and the ocular surface diseases
Posterior blepharitis (meibomianitis) is a chronic often undiagnosed inflammation of the eyelids resulting in dry eyes and allergic ocular symptoms, because of the reduced quantity and quality of lipid oil in the tears, resulting from the eyelids lipid glands dysfunction. Artificial tears and lubricating eye drops contribute in the relief but are only a symptomatic and adjunctive treatment.
The Meibomian glands of the eyelids
The Meibomian or lipid glands existing in the upper and lower eyelid are responsible for the production of the lipid layer which is a basic structural component of the tears, that contributes in the reduction of the tear films evaporation rate.
Posterior blepharitis symptoms
Meibomian gland dysfunction due to inflammation of the eyelids often leads to chronic dry eyes and recurrent chalazions with symptoms such as:
Irritated, swollen eyelids

Red, Irritated eyes

Foreign body, sand like sensation in the eyes

Burning, itching, stinging feeling

Excessive lacrimation, tearing

Light sensitivity

Blurred vision

Intolerance to the use of make up

Contact lenses intolerance

Driving difficulty

Visual fluctuations during the day
Common causes contributing to meibomian glands blockage/dysfunction:
Chronic undiagnosed inflammation of the eyelids

Insufficient eyelid & eyelashes hygiene

Uncontrolled bacterial growth

Demodex mites

Dermatitis

Anti-glaucoma treatments

Make up

Contact lenses
Ophthalmogen EYE10 40C self-heating compresses are the evolution of the traditional compresses. They contribute in unblocking the meibomian glands, improving their functional state, increasing the flow of lipids from the eyelids to the eyes, stabilizing the tear film and slowing down tear evaporation. Daily eyelid hygiene combining the Ophthalmogen EYE10 40C thermal eyelid treatment (Step 1st), cleansing with Naviblef and massaging the eyelids with Ophthalmogen Gel (Step 2nd) is considered the golden standard treatment protocol in cases of blepharitis and dry eyes with severe symptoms.
Daily eyelid hygiene with the innovative 40C self-heating compresses contributes to decongestion of the eyelids and improvement in the quality of the tear film which translates into a better quality of vision and quality of life. The high levels of compliance and satisfaction that Ophthalmogen 40C thermal therapy accomplishes due to its ease, rapidity and comfort, make it the best solution for blepharitis and dry eye sufferers whose time is limited.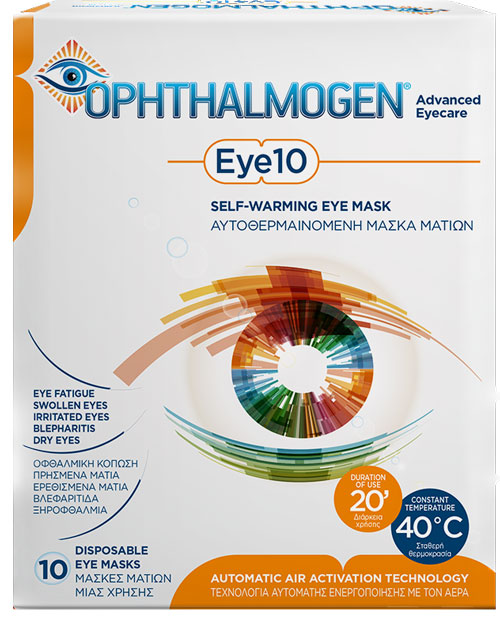 Αυτοθερμαινόμενες κομπρέσες ματιών
RECOMMENDED BY OPHTHALMISTS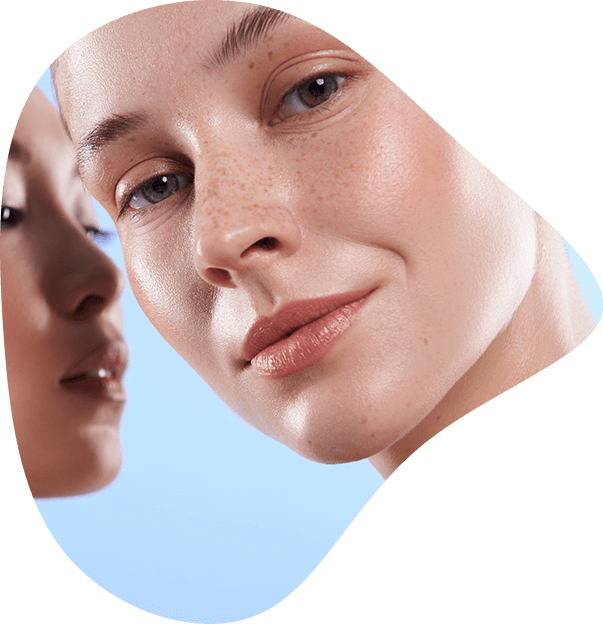 Anti-inflammatory
Anti-bacterial
Anti-demodex
Anti-viral
Moisturizing, regenerative, soothing 
TREATMENT and PREVENTION OF EYE DISEASES
The eyelids are a thin fold of skin that covers and protects the eyes.
– It is the thinnest skin on the entire body
– Contribute to the distribution of tears on the ocular surface
– Contribute to the drainage of tears
EFFECTIVE IN THE TREATMENT & CONTROL OF THE CHRONIC OPHTHALMIC DISEASES OF BLEPHARITIS, DRY EYES AND THE SKIN AILMENTS OF THE EYE AREA
26% of new contact lens wearers drop out of their lenses by the first year
37% of patients seen by an ophthalmologist in the US have blepharitis symptoms
up to 39% of patients with atopic dermatitis can develop keratoconus due to eye rubbing
46% of blepharitis patients suffer from seborrheic dermatitis
47% of patients seen by an optometrist in the US have blepharitis symptoms
up to 50% of the world's population suffers from some form of dry eye
50% of all contact lens wearers develop dry eye symptoms and report discomfort at the end of the day
50% of dry eye patients suffer from anterior blepharitis
51.4% of Rosacea patients suffer from ocular symptoms such as red eyes, itching, dry eyes, stye or chalazion
65% of patients with blepharitis is due to the Demodex parasite
67% of psoriasis patients have ocular manifestations such as blepharitis, dry eyes because of the the systemic inflammation of the disease
70% of dry eye disease cases are due to blocked or dysfunctional meibomian glands, because of inflammation in the eyelids
up to 75% of cataract patients also suffer from dry eyes, blepharitis or some other ocular surface disease that may go undiagnosed prior to surgery
75% of patients with rosacea have ocular involvement which is often underdiagnosed by the dermatologist
82% of glaucoma medication users have their meibomian glands blocked at some extent, experiencing blepharitis & dry eye symptoms
84% over the age of 60 suffer from the Demodex parasite
84.2% of blepharitis patients have simultaneously at least one facial dermatosis such as facial demodicosis, seborrheic dermatitis, rosacea, eyelid dermatitis, ocular rosacea
up to 85% of bacterial infections are due to bacterial biofilm
90% of contact lens wearers has been found to have Demodex
91% of the patients with chalazion is due to Demodex infestation
100% of the people over 70 years suffers from the Demodex parasite